Exhibitor: Feria Internacional de Bogotá 2016 - Stand 311
Exhibitor ~ Sep 26 2016
to

Sep 30 2016
---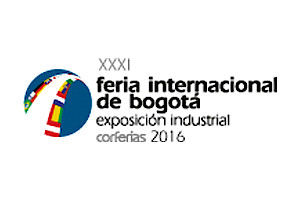 CORFERIAS Bogotá
Cra. 37 #24-67, Bogotá, Colombia
---
Sep 26 2016
to
Sep 30 2016
311
servicios.corferias.com
feriainternacional.com
---
Yaskawa - Solectria Solar will be co-exhibiting with Variadores S.A. at stand 311
The International Industrial Trade Fair of Bogota – FIB 2016, is the leader event that promotes the economic growth in Colombia, the region of the Latin American Pacific Alliance, Central America and the Caribbean. The event is considered as the ideal platform to exhibit Machinery, equipment, technological advances, supplies, heavy Machinery, intermediate and capital goods, raw material and services for an infinite market filled avid of development and industrial growth.
CORFERIAS guarantees to its exhibitors the attendance of a highly qualified and professional visitor in order to generate a platform of industrial and business contacts at a national and International level by promoting the commercial and technological exchange and boost the investment, competitiveness and entrepreneurship of a globalized industry.
La Feria Internacional de Bogotá 2016, exposición industrial, es protagonista del impulso económico de Colombia, la región de la Alianza del Pacífico Latinoamericano, Centroamérica y el Caribe. Es considerada como el escenario propicio para la exhibición de maquinaria, equipos, avances tecnológicos, insumos, maquinaria pesada, bienes de capital e intermedios, materias primas, componentes y servicios a un infinito mercado ávido de desarrollo y crecimiento industrial.
CORFERIAS garantiza a sus expositores, la asistencia de un visitante altamente calificado y profesional en diversas áreas de la industria, con el fin de generar una plataforma de contactos empresariales e industriales nacionales e internacionales, para fomentar el intercambio comercial, tecnológico y dinamizar la inversión, la competitividad y el espíritu empresarial de una industria globalizada.