Aspiring entrepreneurs gain jumpstart to success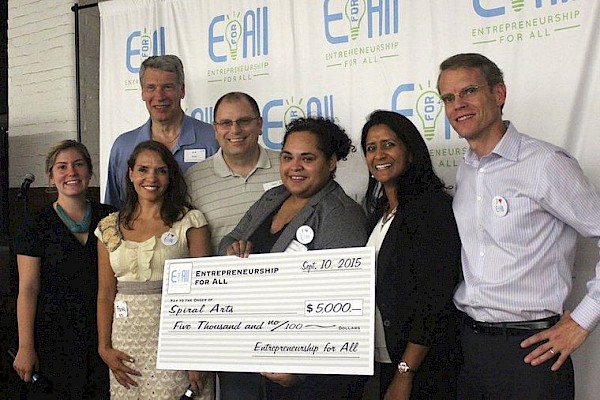 Courtesy photo Rosa Alemán, center with check, the grand prize winner of the Entrepreneurship for All Accelerator Program $5,000 prize, stands with, from left, EforAll program manager Mary Beth Burwood, mentor Bob Katz, EforAll Executive Director Franky Descoteaux, mentor Gary Chamberlin, keynote speaker Anita Worden, and EforAll CEO David Parker. via Eagle Tribune
Posted September 20th, 2016
A bakery, an event planner, an independent video game producer and a mobile face-painting business all have something in common — they are some of the recent graduates of the Summer 2015 Entrepreneurship for All Accelerator Program.
EforAll held its sixth Accelerator Awards Celebration at the Everett Mill in Lawrence on Sept. 10, capping off a 12-week program that helped 15 early-stage entrepreneurs move their businesses forward. 
During the event, EforAll awarded a $15,000 prize pool to its top entrepreneurs. 
Rosa Aleman of Lawrence won the grand prize of $5,000 toward her business, Spiral Arts Multimedia, a for-profit company connecting community-based businesses and organizations with local artists working across mediums.
Fellow Lawrence resident Angelina Jimenez won $500 to support Bocaditos, a gourmet empanada food truck.
Anita Worden, CEO of Solectria, gave the keynote address to a crowd of more than 120. She spoke of her experiences and challenges in the professional world and offered empowering words to bolster continued innovation and entrepreneurship in the local communities.
Backed by Entrepreneurship For All and the Deshpande Foundation, the EforAll Entrepreneur Program is a community-wide initiative to support entrepreneurship backed by more than 30 partner organizations and institutions, including Enterprise Bank and UMass Lowell.
Entrepreneurship for All is preparing to launch its 2015 Pitch Contest Series, welcoming submissions in two categories — All Ideas and Food & Agriculture. Entrants will receive feedback and advice from industry professionals as they compete for cash prizes.
The organization is also gearing up for its 2016 Winter Accelerator Program as well as its expansion into two new locations — the New Bedford and Fall River area as well as Lynn.
See complete article: http://www.eagletribune.com/business/aspiring-entrepreneurs-gain-jumpstart-to-success/article_5d36e99d-14d5-56e0-86bf-589aa7764fa6.html