Secretary of the U.S. Department of Energy discusses Solectria Renewables' Advanced SMARTGRID Technologies at the World Renewable Energy Forum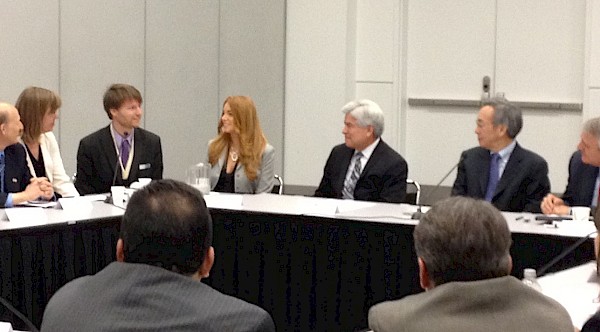 Mr. Zuercher-Martinson (third from left) discussing Solectria Renewables' SMARTGRID technologies with Dr. Chu, Secretary of the DOE
Lawrence, MA - May 17, 2012 - Solectria Renewables, LLC, the leading U.S. photovoltaic (PV) inverter manufacturer, has been participating in the Department of Energy's (DOE) SunShot initiative in an effort to address scientific, technological, and market barriers with solar energy challenges. The DOE is convening the best and brightest minds across government, industry, and academia to strengthen the U.S. leadership in the global clean energy race, increase American economic prosperity, and capture new markets and jobs. Dr. Steven Chu, Secretary of the U.S. DOE discussed Solectria Renewables' advanced SMARTGRID technologies at the World Renewable Energy Forum's (WREF) SUNSHOT Grand Challenge Summit and Technology Forum in Denver, Colorado yesterday.
During the SUNSHOT Grand Challenge Summit and Technology Forum, Solectria Renewables' CTO, Mr. Zuercher-Martinson explained to Dr. Chu how Solectria is working with EPRI, National Grid, Xcel Energy, and Detroit Edison, to develop various SMARTGRID technologies and features. 
Solectria Renewables, LLC is exhibiting at World Renewable Energy Forum (WREF) in Denver, Colorado, May 15-17, 2012 in booth 801 and at the SNEC International Solar Industry and Photovoltaic Exhibition & Conference in Shanghai, China, May 16-18, 2012 in hall E2, booth 275.
###
---