SGI 500XT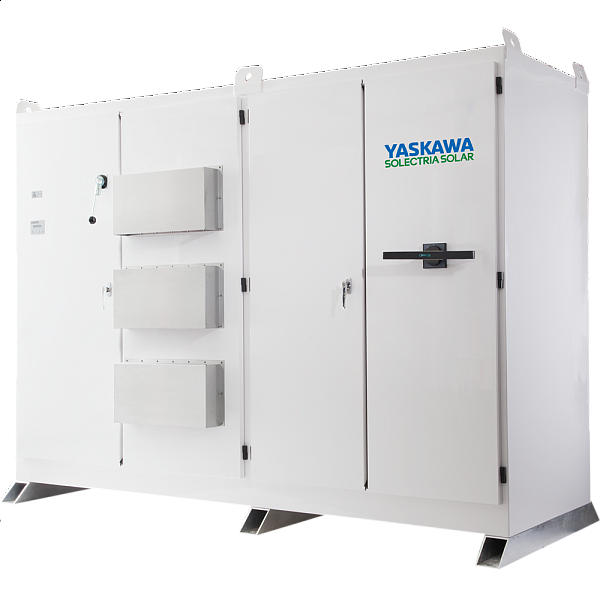 How to Buy
500kW, 600VDC, 208VAC Grid-Tied Inverter
Yaskawa - Solectria Solar's SMARTGRID 500XT PV inverter is compliant with NEC 2014 690.11 & 690.12 requirement when installed with the ARCCOM combiner. The SGI 500XT is the most reliable and efficient utility-scale PV inverter in its class. Optimized for direct coupling to an external transformer, the SGI 500XT is the best choice for large commercial and utility-scale applications that demand the highest performance and reliability. The SGI 500XT's unique inverter design contains all critical components in a compact and easy to install enclosure ensuring maximum uptime, energy production, and return on investment (ROI) for large PV systems. Standout features include a wide range of DC subcombiner (fuses or breakers), optional AC disconnect or AC breaker, and ample room inside the cabinet for easy wiring and service. The SGI 500XT supports advanced grid management for power plants, including real power curtailment, reactive power control, controlled ramp rates, and voltage and frequency ride through.
The SGI 500XT may be purchased as a part of the Megawatt Solar Station Solution. To learn more about this solution, CLICK HERE.
For more information about how comply with NEC 2104 Rapid Shutdown requirements, please CLICK HERE.
Learn how the SGI 500XT Inverter makes the ideal solution to replace legacy inverters here - http://www2.solectria.com/ReplacementInverters
SGI 500XT Features
---
SGI 500XT Options
AC breaker with shunt trip
Air filters
Built-in cellular connectivity
Revenue grade monitoring
Stainless steel enclosure
Uptime guarantee
Web-based monitoring
---
Safety Listings & Certifications
Certification Agency: ETL
CSA C22.2#107.1
IEEE 1547.1
UL 1741/IEEE 1547
---
Product Datasheet & Specifications
---
Additional Documentation & Media