Exhibitor: Feria Internacional del Sector Eléctrico - Stand AZ-069
Exhibitor ~ Nov 29 2017
to

Dec 1 2017
---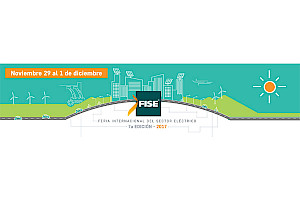 Plaza Mayor, Medellín
Cl. 41 #55-80, Medellín, Antioquia, Colombia
---
Nov 29 2017
to
Dec 1 2017
AZ-069
www.fise.co
www.fise.co
---
Yasakwa Solectria Solar will be co-exhibiting with Variadores.
La Feria Internacional del Sector Eléctrico – FISE - es una iniciativa de la Alcaldía de Medellín, la Cámara de Comercio de Medellín para Antioquia, el CIDET y el Cluster Energía Eléctrica.
FISE se realiza cada dos años, en Plaza Mayor Convenciones y Exposiciones de Medellín, Colombia. La primera feria se realizó en el año 2006; en el 2017 se realizará su séptima edición los días 29 y 30 de noviembre y 1 de diciembre, con el firme propósito de afianzarse como un escenario comercial que propicia contactos y acuerdos de negocios para empresarios nacionales e internacionales, buscando integrar la industria eléctrica en Latinoamérica desde la región.
Cerca de 350 empresas líderes del sector y alrededor de 30 mil visitantes profesionales, se darán cita en este espacio especializado; en el que participarán empresas del sector eléctrico y proveedoras de bienes y servicios conexos, tales como: empresas generadoras, transportadoras, distribuidores de energía y suministradoras de materias primas, materiales, equipos, inversionistas, firmas de ingeniería, empresas de consultoría, universidades y centros de investigación y desarrollo;  con la opción de concretar relaciones comerciales para generar negocios,  incrementar sus ventas y expansión en mercados nacionales e internacionales.
FISE 2017 viene enmarcada dentro de la II Semana de la Energía Latinoamérica y el Caribe, el evento más importante del sector energético en la región de Latinoamérica y el Caribe (LAC), donde se reunirán tres grandes actividades:
ICH Conferencia
Feria Internacional del Sector Eléctrico – FISE
V Congreso CIER