Exhibitor: The Green Expo 2016
Exhibitor ~ Oct 26 2016
to

Oct 28 2016
---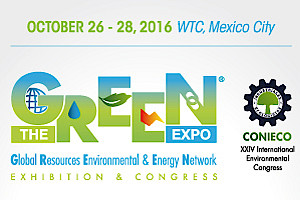 World Trade Center (WTC) Mexico City
Montecito 38, Nápoles, Benito Juárez, 03810 Ciudad de México, D.F., Mexico
---
Oct 26 2016
to
Oct 28 2016
803
FREE
thegreenexpo.com.mx
---
Yaskawa - Solectria Solar will be co-exhbiting with Pillar Mexicana at The Green Expo 2016 in Mexico City.
THE GREEN EXPO® is the leading Exhibition and Congress where solutions and new technologies presented by ecological and sustainable companies to the public and private sectors, who are looking for up to date products and services, thus creating a profitable sustainable industry.
The technology and solutions presented by companies in the environmental, renewable energy, water and green housing are generating economic benefits and are setting the standards for the future in Mexico.
THE GREEN EXPO® is an excellent opportunity for you to meet the decision makers, not only from industry, but also academics, scientists and regulatorty officials.
THE GREEN EXPO® is positioned as the environmental event for networking and doing business. Our Mexican and International exhibitors present their products and services to the thousands of visitors from all industries looking for ways to become more profitable while also doing business in a more sustainable way.