Exhibitor/Training/Speaking: Solar Power International 2015 - Booth 2320
Exhibitor | Speaking | Trainings ~ Sep 15 2015
to

Sep 17 2015
---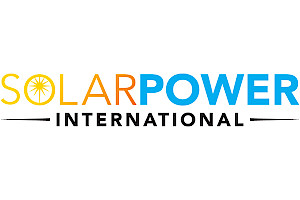 Anaheim Convention Center
800 W Katella Ave, Anaheim, CA 92802
---
Sep 15 2015
to
Sep 17 2015
2320
www.solarpowerinternational.com
www.solarpowerinternational.com
---
Solectria will be in Booth #2320.
Trainings:
NEC 2014, AFDI, & Rapid Shutdown - Sept 15th at 4:30-5:30pm - For more information and to sign up CLICK HERE
Preparing for Rule 21 - Sept 16th at 4:30-5:30pm - For more information and to sign up CLICK HERE
Speaking - Panel Discussion:
Cutting-Edge California - Sept 15th at 9:00-10:00am - Eric Every, Sr. Applications Engineer - For more information CLICK HERE
About Solar Power International

SPI Generates Success for Solar Energy Professionals and the Global Solar Industry. For more information, please visit: www.solarpowerinternational.com
The Facts
Solar Power International (SPI) is North America's premier business-to-business event for professionals in solar energy and related fields.
More than 15,000 solar energy industry professionals from 75+ countries attend.
More than 700 leading manufacturers, service providers, and vendors on the Expo floor.
Four full days of power-packed ROI that will help you grow, learn, connect, and compete.
The Features
SPI brings the full range of industry ideas, experts, professionals, and information together in one comprehensive event that delivers:
Peer-led educational programming designed to exchange ideas, share lessons learned, and provide solutions for your business.
Unique networking opportunities that allow you to solidify your current relationships and build new ones.
Connections with industry vendors and professionals from the U.S. and around the world as they showcase their newest products and services.
Opportunities to expand in and with the U.S. market.
The Future of Solar
Solar Power International is a global event that drives buying decisions and business solutions for the entire solar energy industry. 
In 2012, PV installations grew a head-turning 76 percent.
Experts predict continued solar PV growth of 29% over 2012.
The estimated market value for 2012 photovoltaic installations: $11.5 billion.
All market segments—residential, commercial, and utility—showed growth in 2012.