Solar Power World Presents: Behind NEC 2014 & 2017
Webinars | All Training & Events ~ Jun 21 2017
to
---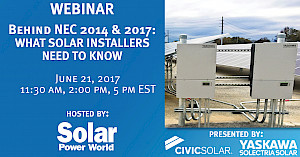 Online
---
Jun 21 2017
to
Free
www.solarpowerworldonline.com
---
Join us for a live webinar with CivicSolar & Yaskawa – Solectria Solar on June 21st, offered at 11:30am, 2pm and 5pm EST.
This webinar will serve as a code compliance lesson with the updates on article 690. We will review the different solutions available for rapid shutdown compliance to keep solar to keep solar installers and end users safe. The quality and integrity of solar photovoltaic (PV) system components is essential to ensuring our industry continues to grow.
Participants will learn:
Key attributes to look for in inverter technology
The evolution of the code and how the PV industry is changing to ensure compliance.
YSS technology technology and specific examples of solutions provided
Q&A with CivicSolar & Yaskawa – Solectria Solar
Speakers
Eric Lorenz
Technical Sales Manager
CivicSolar, Inc.
Michael Nieman
Senior Applications Engineer
Yaskawa – Solectria Solar
Kelsey Misbrener
Editor – Moderator
Solar Power World