Solectria Renewables Announces Higher Efficiency SMARTGRID Inverter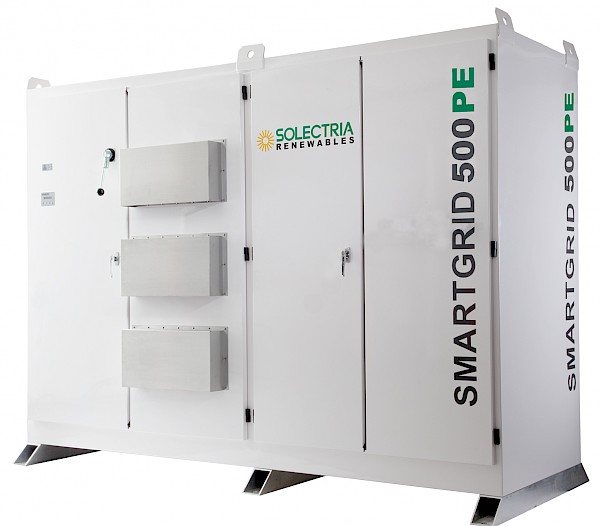 Lawrence, MA – October 31, 2012 – Solectria Renewables, LLC, the leading U.S. PV inverter manufacturer, announced the release of its premium efficiency 500kW SMARTGRID inverter (SGI 500PE) today.  At 97.5%, the transformer-based SGI 500PE boasts the highest CEC efficiency and peak efficiency (98.1%) in the solar industry.
The SGI 225-500 series of inverters have been deployed in a large number of commercial and utility-scale systems across North America ranging from 200kW to multi-MW.  Solectria Renewables continues to provide the solar industry with inverters that boast market leading efficiencies and reliability.
"Higher efficiency products translate into significantly greater energy production and cost savings over the lifetime of a system," stated Michael Zuercher-Martinson, CTO of Solectria Renewables.  "Solectria continuously seeks to reduce our customers' overall system costs by offering higher efficiencies.  Our SGI inverter line delivers the highest level of performance enabling the lowest levelized cost of energy (LCOE) in the solar industry today."
Customers may also choose DC subcombiner circuit breakers for the SGI 225-500.  The subcombiner option presents another opportunity to reduce overall system costs by eliminating additional components and labor.  The PV output circuit conductors are terminated at the lugs and installed on molded case circuit breakers inside the inverter eliminating the need for external DC disconnects. Purchasing an inverter with an integrated DC subcombiner circuit breaker also simplifies system design and installation as well as increases safety and reliability.
For more information regarding DC subcominer circuit breakers, please read our white paper.
##