Solectria Renewables Supplies over 10.5MW of Commercial & Utility-Scale Inverters to New Jersey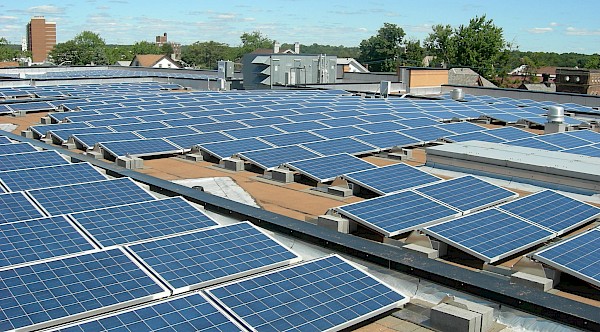 DCO Energy Continues to Choose Solectria Renewables as Inverter Provider

Lawrence, MA – September 2, 2010 – Solectria Renewables, LLC, the leading U.S. PV inverter manufacturer, announced today that it will supply 10.5MW of commercial and utility-scale inverters for three photovoltaic (PV) systems in New Jersey in partnership with DCO Energy, an engineering, procurement and construction (EPC) contractor.
The first PV system is a 6MW system spanning 45 acres at Seabrook Farms in Seabrook, NJ incorporating over 27,000 solar panels.  The construction for this project is split into two phases. The first 3MW phase is already underway and will be completed by the end of 2010. The second 3MW phase will commence in the spring of 2011. Solectria Renewables will provide 12 SmartGrid Inverters (SGI) – 11 SGI 500kW's and 1 SGI 300kW.  The completed system will save Seabrook Farm an estimated $1,000,000 a year in energy costs and generate greater than 8 million kWh of energy annually – enough to power 785 homes for an entire year.
The second PV system will be a 2.5MW ground-mounted PV system co-located at South Jersey Industries (SJI) natural gas storage facility in McKee City, New Jersey.  This ground-mounted PV system will be tied directly to the grid at SJI's natural gas storage facility and generate almost 3 million kWh of energy annually. It is slated to break ground in the first quarter of 2011.  Solectria Renewables will provide 4 SGI 500kW's, 1 SGI 250kW and 2 PVI 95kW's Inverters.
Earlier in 2010, Solectria Renewables also supplied over 2MW of inverters to DCO Energy to retrofit the entire city of New Brunswick, NJ. This project encompassed 7 PV system sites across the city which included 2 high schools, the middle school, a community center, the waste water treatment plant and 2 parking garages.
"Solectria Renewables was an exceptional partner for the City of New Brunswick projects supplying greater than 2MW of inverters.  These projects required the most advanced, reliable and highest performing systems deliverable. Solectria Renewables' SmartGrid Inverters [SGIs] are the best utility-scale inverters we have tested and the team at Solectria Renewables is extremely dependable," said Frank DiCola, President of DCO Energy.
"The state of New Jersey is one of the biggest PV solar markets today.  These projects totaling over 10.5MW has put us in the forefront of the PV inverter market in New Jersey.  We have an extensive history of supplying New Jersey projects with commercial inverters and are excited to now be providing our utility-scale inverters," stated James Worden, CEO of Solectria Renewables.
###