Yaskawa – Solectria Solar Leads the U.S. Commercial PV Inverter Industry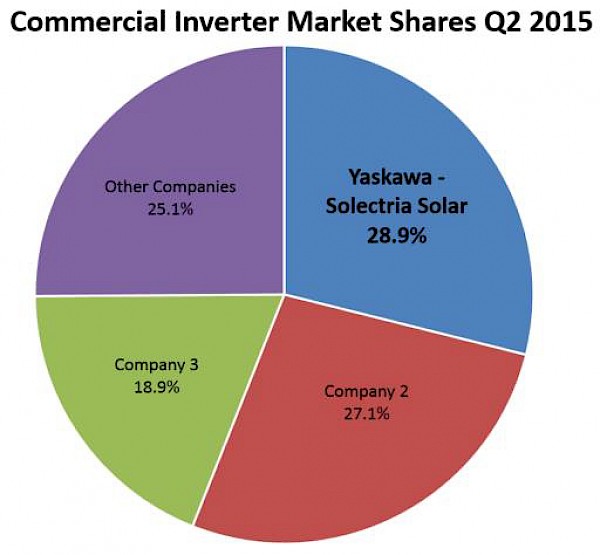 Lawrence, MA – November 19, 2015 – Yaskawa - Solectria Solar, a leading U.S. PV inverter manufacturer, announced today that it has become the #1 commercial inverter supplier in the U.S. according to GTM Research. GTM Research is the leading market analysis and advisory firm on the transformation of the global electricity industry and is known for its U.S. PV industry expertise.
Since 2010, Yaskawa – Solectria Solar has seen its commercial market share grow steadily while continuously manufacturing inverters conforming to industry requirements with a focus on service, quality and reliability. "The U.S. has consistently been one of our strongest markets, but our place in the commercial market has soared since 2010 by introducing the right products at the right time," said Phil Vyhanek, President of Yaskawa – Solectria Solar. "We've worked with the largest commercial players in the industry and demonstrated our commitment and customer partnerships through service, quality, reliability and bankability."
Solectria Renewables was acquired by Yaskawa Electric Corporation through its U.S. subsidiary, Yaskawa America, Inc. in 2014. This acquisition has strengthened Yaskawa – Solectria Solar's position in the industry, especially as it relates to bankability. In a recent GTM Research article, their analysts stated, "The acquisition fill[ed] Solectria's biggest need in the U.S. market and gives it the tools needed to be aggressive in today's inverter market environment. The deal also provide[d] instant credibility to Yaskawa in the U.S. market."
Yaskawa is the #1 global inverter manufacturer with over 23 million inverters installed and is known for exceptional quality and service. Since being acquired, Solectria Renewables has changed its name to Yaskawa – Solectria Solar and is committed to being a global leader in PV inverters.
About Yaskawa - Solectria Solar
Yaskawa – Solectria Solar, a wholly-owned subsidiary of Yaskawa America, Inc., is the largest commercial inverter manufacturer in the U.S. Solectria's products include 3.8 kW to 750 kW inverters, string combiners and web-based monitoring for all size solar systems. Solectria is backed by over 100 years of power electronics and inverter experience. All of Solectria's three-phase central inverters are made in the USA. PV System owners, developers and EPCs rely on the high performance, reliability and bankability of Yaskawa – Solectria Solar. To learn more, please go to www.solectria.com.
CONTACT
Natalie Holtgrefe
Sr. Marketing Manager
Yaskawa - Solectria Solar
978-683-9700 x157
natalie.holtgrefe@solectria.com