AC Coupled Energy Storage System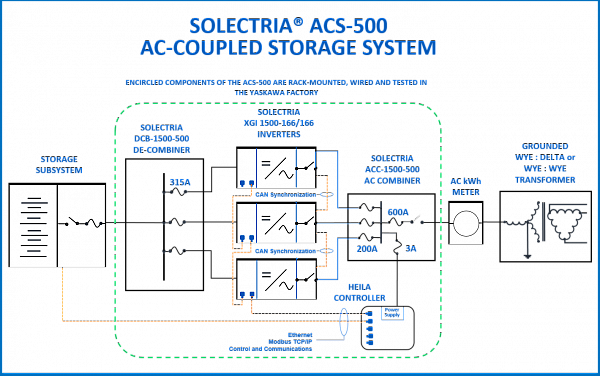 How to Buy
500 kW AC-Coupled Energy Storage System. SMART and SGIP ready.
Yaskawa Solectria Solar's ACS-500 provide the most robust and reliable Utility-Scale Energy Storage System in the industry. The AC Coupled Energy Storage System comes with 3 Solectria XGI 166 Inverters and a Plant Master Controller. 
Operational Capabilities: Through the platform's cloud-based access, the end-user can easily configure alerts and notifications presets to ensure faults in the system can be quickly identified and addressed. The dashboards also provide powerful data and event logs visualization, archival, reporting, and exporting tools.
Grid Integration: The platform is compatible with most utility-standard communication protocols (e.g. DNP3, Multi-speak, IEEE-2030.5, IEC-61850, OpenADR), enabling streamlined and secured integration with utilities, aggregators, and markets.
Equipment Integration:  Our on-site edge devices are compatible with most local communication protocols (e.g. Modbus TCP/RTU, CAN bus, BACnet, analog/digital signals) to facilitate easy interconnection with on-site DERs, meters, and sensors.
Autonomous Operation Capabilities: If external communication is lost, the PMC devices can continue to operate the system autonomously using only the local network. In addition, all metrics continue to be acquired and stored locally until the connection is restored, to ensure persistent data integrity.
Features
---
Product Datasheet & Specifications