Training: Commercial PV Training (Inverters, Modules, Racking) with Solectria, Mitsubishi, GameChange Racking - Cypress, CA
Trainings ~ Sep 17 2014
to
---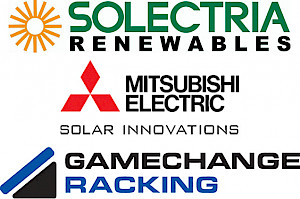 Mitsubishi Electric's HQ
5900 Katella Avenue, Building C - Cypress, CA
---
Sep 17 2014
to
4
$25
events.r20.constantcontact.com
---
Attend this training and get $100 off of your next order when you purchase any 2 or 3 of these components through Mitsubishi Electric!
TRAINING INFORMATION:
COST $25
WHO: Solectria Renewables, Mitsubishi Electric, GameChange Racking
WHAT: Commercial PV Training (Inverters, Modules, Racking)
WHEN: Wednesday, 9/17/14, 8am-1pm
WHERE: Mitsubishi Electric's HQ, 5900 Katella Avenue, Building C, Cypress, CA
SIGN UP: http://conta.cc/UqudJm
Breakfast and lunch included
SCHEDULE:
8-8:30am:               Registration, Breakfast
8:30-8:45am:          Mitsubishi – welcome, introductions, agenda
8:45-10:45am:        Solectria Renewables – Commercial Design Considerations
10:45-11:45pm:      Mitsubishi – Choosing the Right PV Panel for your Job
11:45am-12:45pm: GameChange Racking – ground-, roof- and car port- racking solutions
12:45-whenever:    Lunch & Q&A
OUTLINE OF TRAINING:
Solectria Renewables: Commercial Design Considerations:
DC Design Considerations
                String Sizing
                Array Oversizing
                Voltage Drop
                Overcurrent Protection
                Subcombiners
AC Design Considerations
                Commercial Service Types
                Interconnections
                Advanced Inverter Features
               String Combiners/Fuse sizing
Industry Design Trends
                Ungrounded Systems
                3Ph string vs. Central inverters
Solectria Products: PVI 14-28TL, PVI 50-100KW, SGI 225-500PE
Mitsubishi Electric: Reliablility & Bankability of a Solar Panel
Despite dramatic price reductions over the past several years, PV modules still represent the most significant part of overall solar electric system investment. They are the only energy producing component of the system, with other components serving as transfer media.  PV modules also face the greatest expectations for performance and durability among a system's components, with all modules required to carry a 25-year performance warranty. This session will include break-out sessions, Q&A and hands-on examples to reinforce learning from the presentation material. 
How can you identify modules that are up to the task?
How do you evaluate two performance dimensions for determining PV module bankability?
Learn the most common points of technical failure in a PV Module
Discuss the product design strategies being adopted to address these vulnerabilities
GameChange Racking: How GameChange Reduces Overall System Cost & Improve Your Profitability
Making Racking Simple
Faster to Install
Bankability & Quality
Lower Overall Cost
QUESTIONS:
Contact:
Natalie Holtgrefe
Sr. Marketing Manager
natalie.holtgrefe@solectria.com
781-640-0755
---