Yaskawa – Solectria Solar's Three-Phase String Inverters Compatible with Tigo®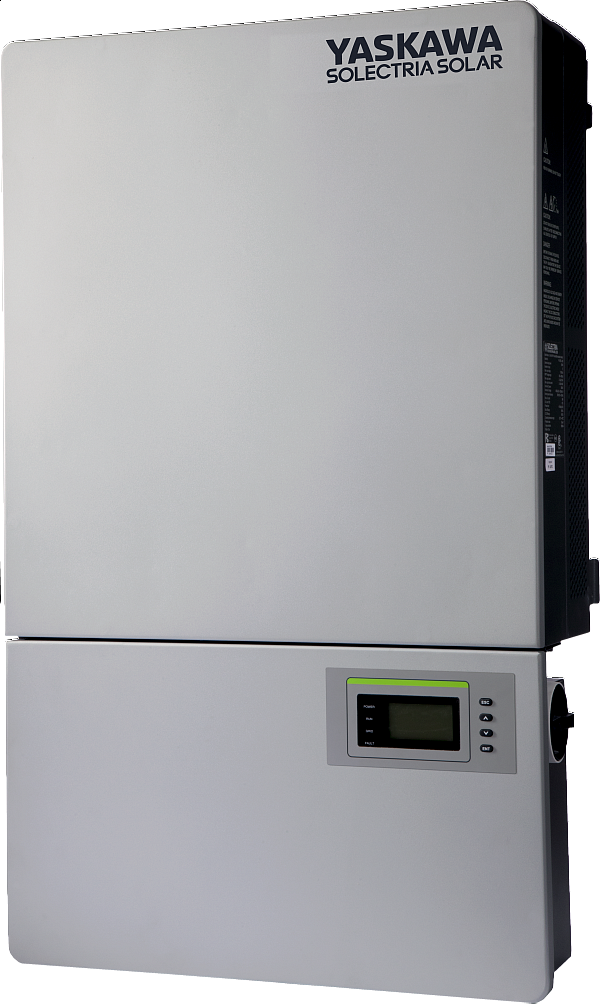 Lawrence, MA – April 11, 2017 – Yaskawa – Solectria Solar, the leading U.S. commercial PV inverter manufacturer today announced full compatibility of its three-phase string inverters with Tigo's module optimizers, fully complying with the 2014 and 2017 National Electric Code (NEC) 690.12 Rapid Shutdown Requirements.
"We are pleased to offer our customers a solution that complies with the upcoming module-level rapid shutdown requirements," said Miles Russell, Director of Product Management at Yaskawa – Solectria Solar. "Tigo's integration with Yaskawa – Solectria Solar inverters allow us to stay at the forefront of the latest technology and code changes, while keeping costs low. This solution gives customers the reassurance they are looking for when it comes to safety."
Tigo's UL and IEC-certified optimizers TS4-L and TS4-O discharge the capacitors in the inverter to ensure zero voltage at shutdown. In addition, the built-in automatic over-current and over-temperature features reduce liability and provide safer conditions for installers, customers and first responders in case of emergency.
Tigo conducted extensive testing to validate the effective performance of the systems together in standard operating environments. Yaskawa – Solectria Solar's three-phase string inverters, PVI 23/28/36TL, can be used successfully in combination with the following TS4 product families from Tigo:
TS4-B models –D, -M, –S, -O, -L
TS4-R models –M, -S , -O
"Tigo is distinguished in the industry as being the sole company to offer a certified modular platform so customers can cater their system needs by simply replacing the TS4 functional covers," says Gal Bauer, Director of Training and Development at Tigo. "By combining our innovative technologies with tier 1 companies like Yaskawa - Solectria Solar, Tigo is providing the solar market with the safest solar energy generation products and management systems."
Warranties from Yaskawa – Solectria Solar and Tigo will remain valid if the design, installation, and operation requirements are followed for each product.
About Yaskawa - Solectria Solar
Yaskawa – Solectria Solar, a wholly-owned subsidiary of Yaskawa America, Inc., is the largest commercial inverter manufacturer in the U.S. Solectria's products include 3.8 to 750 kW inverters, string combiners and web-based monitoring for all size solar systems. Solectria is backed by over 100 years of power electronics and inverter experience. All of Solectria's three-phase central inverters are made in the USA.  PV System owners, developers and EPCs rely on the high performance, reliability and bankability of Yaskawa – Solectria Solar.  To learn more, please go to www.solectria.com.
About Tigo
Tigo is a Silicon Valley company founded in 2007 by a team of experienced technologists. Combining a unique systems-level approach with expertise in semi-conductors, power electronics, and solar energy, the Tigo team developed the first-generation Smart Module Optimizer technology for the solar industry. Tigo's vision is to leverage integrated and retrofitted Flex MLPE and communications technology to drive the cost of solar electricity down. By partnering with tier 1 module and inverter manufacturers in the industry, Tigo is able to focus on its key innovation with the smartest TS4 modular platform and leverage the broader ecosystem. Tigo has operations in the USA, across Europe, Japan, China, Australia and the Middle East. Learn more at https://www.tigoenergy.com/.
CONTACT
Yaskawa - Solectria Solar
Samantha Peck
Marketing Supervisor
978-683-9700 x179
Tigo Energy
Tiffany Douglass
Marketing
408-402-0802 x430
###