Yaskawa Solectria Solar Now Offering "Tariff-Free" Inverters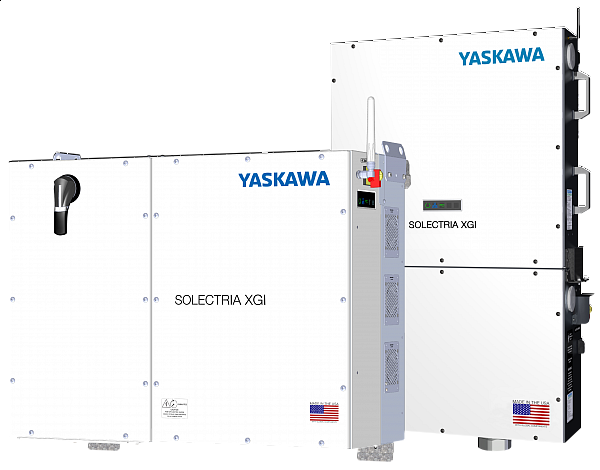 Lawrence, MA – September 20, 2018 – Yaskawa Solectria Solar, the leading U.S. commercial PV inverter manufacturer, confirms that its new SOLECTRIA XGI™ premium quality inverters are designed and manufactured in the U.S.A., and exempt from Section 301 tariffs. The tariff will add up to 25% additional cost to most other PV inverter options by January 1, 2019.
In addition to the tariff exemption, SOLECTRIA XGI inverters offer the following advantages: the XGI inverters are Buy America Act (BAA) compliant, provide cyber-secure communication with servers based in the United States, and are built of the highest quality and tested to extreme reliability standards.
"The interest in our new SOLECTRIA XGI inverters has been overwhelming, and we are very excited to introduce these high-quality state-of-the-art American-made inverters to our customers," said Miles Russell, Director of Product Management of Yaskawa Solectria Solar.
The SOLECTRIA XGI 1000 inverter production began earlier this month and the SOLECTRIA XGI 1500 inverters will be available in early 2019. Yaskawa Solectria Solar is accepting orders on both inverters now.
Yaskawa Solectria Solar will be exhibiting at Solar Power International in Anaheim, CA September 24-27 where they will showcase the SOLECTRIA XGI 1000 and SOLECTRIA XGI 1500 inverters in booth #2214.
About Yaskawa Solectria Solar
Yaskawa Solectria Solar (Solectria), a wholly-owned subsidiary of Yaskawa America, Inc., is the leading commercial inverter supplier in the United States. Solectria's products include 14 to 750 kW inverters, string combiners and web-based monitoring for all size solar systems. Solectria is backed by Yaskawa's 100+ years of power electronics and inverter experience. Solectria's three-phase transformerless string inverters (XGI line) and three-phase central inverters (SGI line) are engineered, designed and assembled in the United States. PV system owners, developers and EPCs rely on the high performance, quality and reliability delivered by Yaskawa Solectria Solar. To learn more, please go to www.solectria.com.
CONTACT
Samantha Olsen
Marketing Specialist
Yaskawa Solectria Solar
978-683-9700 x110
samantha.olsen@solectria.com
###